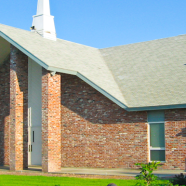 Finley Baptist Church is a small fellowship of 25 active members.  We are located in rural Finley, Washington about four miles east of the Kennewick city limits one block off of State Highway 397 at the corner of Finley Road and Game Farm Road.
Our church is centered on Jesus Christ as presented to us in the inspired Word of God.  Our members are rich in the love of Christ and are accepting of others.  Our members come from a variety of backgrounds and ethnic heritages.
Our method of evangelism is Christ incarnate in us reaching out to others in love and service.  We believe the Great Commission calls us to make disciples of new believers.
We practice baptism of new believers and the Lord's Supper as two church ordinances used to express our obedience to God and to enrich our faith.
We meet each Sunday morning to experience God's presence in our midst, thank Him for the ways He has worked through each of us during the past week and to thank Him for the new things He is teaching us. We share our burdens with one another openly and lift them up to the Lord in prayer.  We leave our time together encouraged and renewed and energized to share the light of God's love in the community around us.